Nice patio furniture can bring comfort and function to your outdoor space. When equipped with the right patio furniture, even small spaces such as balconies and mini gardens will invite your attention to linger on the terrace. Careful planning will help make your patio a new favorite place to relax, dine and entertain.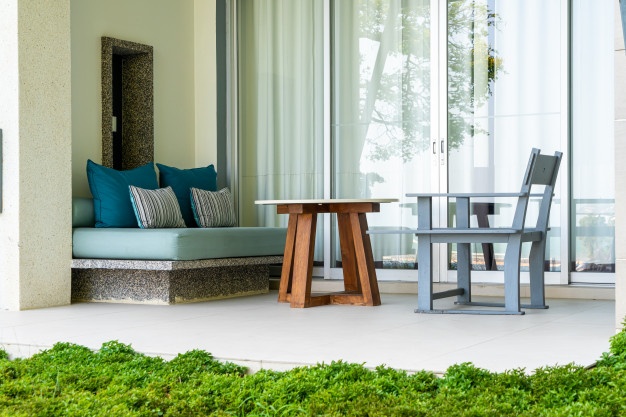 Terrace furniture is designed depending on several different elements. Some good furniture materials can be used when the climate is wet, some other materials can be used in dry climates and other climates such as warm climates.
Each furniture material has its own style, level of care, strength, durability, and performance in a certain climate. For that, let's look at some tips in choosing furniture materials for your porch.
1. Use Special Outdoor Materials
The rule for durable patio furniture styles is to use only furniture, accessories, and even flora that are resistant to quite an extreme environment. Look for patio furniture that is easy to care for to minimize in terms of maintenance. With a little routine cleaning, furniture made using these easy-to-use materials will look beautiful and last for years.
The use of this material is quite diverse, from wood, granite, marble, glass or several types of materials that are classified as metal. You can choose a variety of available materials and combine them, of course, all of that must be combined from the use of materials with environmental conditions and the climate around the dwelling.
2. Try Outdoor Seating Before You Buy
When shopping for patio chairs and sofas, be sure to try to sit down before you buy them. With the reason that patio furniture is likely to be used for a long time, so make sure the seat must be comfortable.
For maximum comfort, look for items with soft cushions on the chair and comfortable on the back when they lean back. In this case, you can choose furniture made of metal and wood which is comfortable with the addition of soft pillows.
3. Plan a patio lighting scheme
If you plan to spend any time basking in the afternoon sun, you may need additional help on the lighting front on your patio.
Lighting with outdoor wall lights is ideal for this type of space, as they won't take up valuable patio space. Once installed it will not leave any cables behind, so the outside area of ​​this residence will always look neat.
4. Add a comfortable touch
The terrace is an extension of a house, a comfortable touch is very important to affect your terrace. This addition makes your sofa and chairs more comfortable, besides that your decor is more welcoming and gives the room a more attractive impression.
If your patio is restrained enough in color choices, outdoor cushions or some other bright accessory can make a nice change. With a beautiful appearance, of course, it will enhance the exterior appearance of the house.
For more information about Furniture manufacturers malaysia, please visit https://furnizone.com